April 2017

Saturday, April 15
Doggie Easter Egg Hunt
9a
Panama City Beach Conservation Park, 100 Conservation Drive. Meet at Pavilion for a short nature walk, then on to the Easter Egg Hunt)
Cost: FREE! This event comes to us courtesy of the Panama City Beach Parks and Recreation Department. You can help them by volunteering to assist. They need volunteers to gather prizes from area businesses or to donate dog treats for the eggs. If you want to help with this great event, contact them at 233-5045 or email Dale Colby at dcolby@pcbgov.com
Thursday, April 20
11th Annual Paws on the Catwalk
10:30a-2p
A benefit for the Humane Society of Sarasota County.
Held at The Ritz-Carlton, 1111 Ritz-Carlton Dr., Sarasota. Enjoy special cocktails, shopping, a fashion show and luncheon. This event sells out fast, so purchase tickets now by calling 941.955.4131.
Friday, April 21
Bark at the Ball Park
Gates open at 5:30p
Fun at the Ball Park with the Clearwater Threshers to benefit Humane Society of Pinellas.
Vendors. Food. Fun. Demonstrations. Running of the bases and more.
Spectrum Field, 601 Old Coachman Rd., Clearwater.
HumanePinellas.org

Bark in the Ball Park
Bradenton Marauders
Lecom Park
Saturday & Sunday, April 22 & 23
Furry Fro-Lick
Florida West Coast Air Dogs Club
Bradenton
Saturday, April 22
3rd Annual Holy Spirit Pet Fair and Blessing
10a-2p
Gift baskets. Raffles. Vendors. Rescue groups. Pet Blessing.
Holy Spirit Synodal Catholic Church, 3265 SR 580, Safety Harbor
For inquiries regarding vendor and rescue group participation, please contact Karen at 727.542.5113.

Bark in the Ball Park
Dunedin Blue Jays
Florida Auto Exchange Stadium
Sunday, April 23
Don't Worry Be Yappy Hour
2p-5p
The Jacksonville Landing, 2 Independent Drive, Jacksonville.
Live music. Giveaways. Contest. Local pet vendors.

10th Annual Droolapalooza
A benefit for Newfie Rescue through Newfoundland Club of Florida Held at Ten Pin Lanes, 1453 Pasadena Avenue, St. Petersburg.www.NewfFla.com
Bark in the Ball Park
Daytona Tortugas
The Jack (Daytona Beach)
Saturday, April 29
St. Pete Spring Fling & Faerie Costume Contest
10a-3p
Unity Campus, 460 46th Ave. N., St. Petersburg.
Adoptions. Live music. Food. Pet-related vendors. Shopping. Proceeds to benefit Humane Education Connection's Canines Helping Kids in Crisis. Vendor information, contact Kim at RhueEvents@yahoo.com or call 727.798.5499.
HumaneEducationConnection.org
25th Annual Walk for Animals
8a
Lake Mirror in Lakeland.
A fundraising benefit for SPCA Florida. Vendor and sponsorship opportunities, call 863.577.4608. SPCAFlorida.org
Bark in the Ball Park
Fort Myers Miracle
Hammond Stadium (Fort Myers)
Bark in the Ball Park
Jupiter Hammerheads
Roger Dean Stadium (Jupiter)
MAy 2017

Friday, May 5
Bark in the Ball Park
Bradenton Marauders
Lecom Park (Bradenton)
Saturday, May 6
Bark in the Ball Park
Tampa Yankees
Steinbrenner Field (Tampa)
Benefits Southeastern Guide Dogs
Bark in the Ball Park
Florida Fire Frogs
Osceola County Stadium (Kissimmee)
FloridaFireFrogs.com

Spay-Ghetti & No Balls
Noon-4p
Luncheon+Fundraiser for Boxer Rescue Angels of Florida
Music. DJ Tommy D. Silent Auction. 50/50 raffle. Vendors. Bounce House. Hudson Eagles Lodge #3997
6840 Beach Blvd., Hudson.
Sunday, May 7
American Stage & The New Barker present
PETS IN THE PARK THEME NIGHT
Featuring Hairspray, The Broadway Musical.
Demens Landing Park, St. Petersburg.
Call for vendor space and general information: 727.823.7529. AmericanStage.org
Tuesday, May 9 through Friday, May 12
Animal Care Expo 2017
Froward County Convention Center, 1950 Eisenhower Blvd.,
Fort Lauderdale animal sheltering.org/expo
Saturday, May 20
Third Annual Woofstock
11a-4p
A benefit for Pasco Animal Services
Vendors. Bands. Food. Vendor fee is only $35.
Event will be at Florida Estates Winery, 25241 FL 52, Land O'Lakes.
Interested in being a vendor? Contact aciesluk@pascocountyfl.net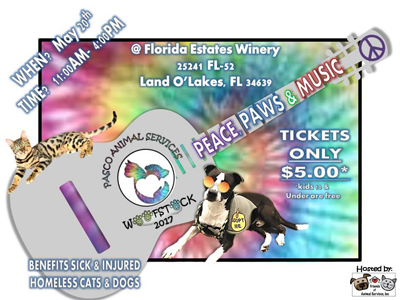 Contents ©2005-2014 Cooke Creative.
All rights reserved. Terms of use.